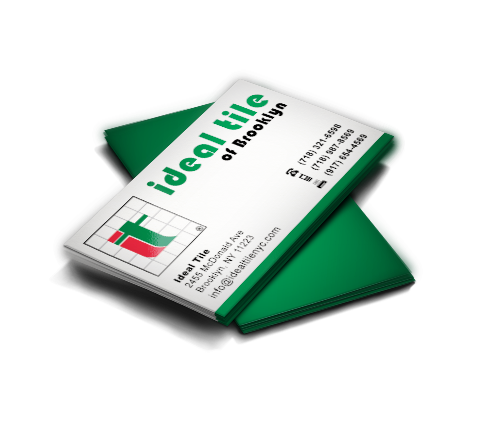 Business Card is important part of corporate identity, the better impression they leave the more you will be remembered.  Quality of business card is defined by its design, creativity and material they are printed on.
Important part of the business card design is logo, it will be always visible and everyone should be able to recognize it. Remaining components should be perfectly arranged around logo. Neat arrangement of business card parts will create best impression for conservative designs.
In certain cases business card should be more then paper with phone numbers and email. In those cases actual designs and graphics can be added to decorate the card. In this case more work of print graphic designer will be required. Sample on the right is conservative yet neat and affective business card designed for our client.
For better impression we recommend printing cards on heavier paper with proper coatings.  This will add cost but at the end will add value to your brand. Remember, different coatings look differently and have their own advantages and disadvantages in certain cases.
Aqueous Coating – adds a little bit of gloss to printed material, most of the restaurant menus have this printing option. It's cheap and affective. Advantage of aqueous coating is that it does not keep fingerprints even when black/dark designs are printed. This coating is writable by hand but is not printable with desktop printers. In addition there is no water resistance with AQ coating.
High Gloss UV Coating – Makes colors very vivid, excellent option to add accent on bright colors such as yellow and blue.  With very dark colors such as black there is a risk that fingerprints will be visible on printed materials.  On contrary UV coating provides good protection against water and spills.
Dull UV Coating – same was as UV coating there is watter resistance added but dull/matte finish defuses the color so vivid colors will be less vivid. Matte and flat coatings are good for for dark colors though, they add uniform light distribution and artificial gradient fill affect.
Silk Coating – similar to dull UV, silk coating adds matte finishes but with much better touch impression. It adds some degree of vividness in combination with the flat surfacing. So far it's one of the best option for modern business cards.