Category Archives: Video
Our Videos
SKY7 Studio submits its New York Parking app to NYC BigApps 3.0  If you like our idea then vote for us. We promise to deliver more parking, traffic and automotive products in the future.  We alsoways like car related project and we love to drive around NYC but some times its hard so we will try to make NYC driving experience a bit easier.  We might do future projects with hardware related with help of TempGP Automotive Engineering services.  For now those here is parking App for android platform.
SKY7 NYC Alternative Side Parking Rules app provide real time updates on sustention of street cleaning rules and meters in the city.  In New York City you have to move your car from the side of the street during street cleaning hours, if you don't move your car you will get ticket. Some times street cleaning rules are suspended either due to scheduled events, or weather emergencies.  Our app provides access to those exceptions for current day and for "tomorrow".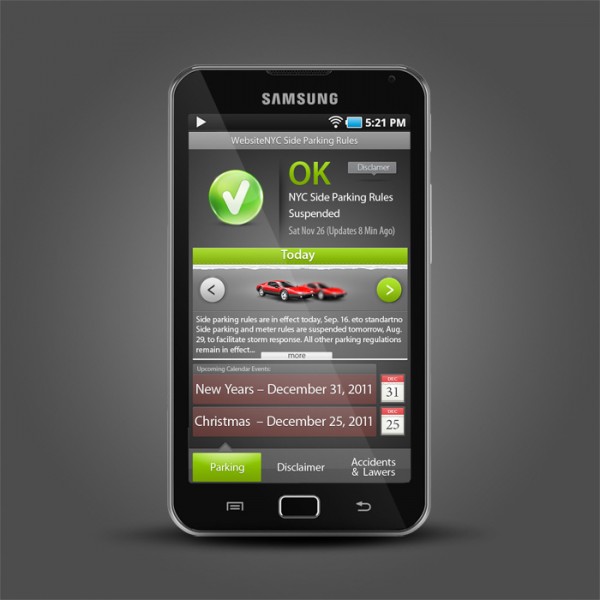 So if you have our app on your phone you can check if rules are suspended. If they are you can park your car in street cleaning zones. More over some times meters are suspended so you can save few $$$ on meters in certain days.
App has 3 sections, one is the graphical representation of whether rules are suspended or not. If you see green check mark then rules are suspended. If you see red sign then rules are in affect and you should not park.  Below the status icon there is text explain the reason for current rules. If green arrows light up then you can switch between the days. Ex you can go to go see what rules are in affect tomorrow.  Underneath you will find list of calendar events on which sparking rules are suspended. If you see * next to the holiday name then it means that this is major federal holiday and meters are suspended too.